The Kingdom of Saudi Arabia is now caught in a bind as the oil crisis is pushing importing states to demand more production from the oil-producing country.
The catch, however, is that the kingdom may have been embellishing its oil-producing capacity–which could be a threat to its perceived power as an oil-rich state, according to an oil industry pundit.
"Why does it lie so much and so often about these figures? Because without the power it has in the world directly associated with its crude oil production, spare capacity, and reserves it has no real power at all, so enormously exaggerating each of these figures is geared towards puffing itself up in terms of its geopolitical importance," wrote financial journalist and OilPrice.com contributor Simon Watkins.
In his deep dive into the country's history of posturing, Watkins delved into the "hefty claims" Saudi Arabia has on its oil reserves, spare capacity, and production capacity.
"The problem Saudi Arabia has right now, however, is that the U.S. and all other developed market countries whose economies are suffering under the weight of ongoing high oil prices are pressuring Riyadh to deliver on these claims, in order to bring these oil prices down. If Saudi Arabia had not been lying all these years about the amount of oil it can produce then it will not have a problem, but it has been, so it does," he added.
The "increasing" oil reserves
One of the inconsistencies that Watkins pointed out is Saudi Arabia's published reserves, as it continues to increase despite the apparent lack of discovering substantial new fields.
"At the beginning of 1989, Saudi Arabia claimed proven oil reserves of 170 billion barrels, but only a year later, and without the discovery of any major new oil fields, the official reserves estimate had somehow increased by 51.2 percent, to 257 billion barrels," Watkins explained.
This somehow further increased "to just over 268 billion barrels" in 2017. On the OPEC website, the country is listed to have 261.6 billion barrels of crude oil in reserves as of 2020.
Juxtaposing it with production, the Middle Eastern country averaged 8.19 million barrels of oil per day. Starting from the same year 1989 when the country had 170 billion barrels in reserve, Saudi Arabia has pumped around 95.7 billion barrels of oil.
"Over the same period, there has been no significant discovery of major new oil fields. Despite this, Saudi Arabia's crude oil reserves have not gone down, but rather have actually gone up. This is a mathematical impossibility," Watkins claimed.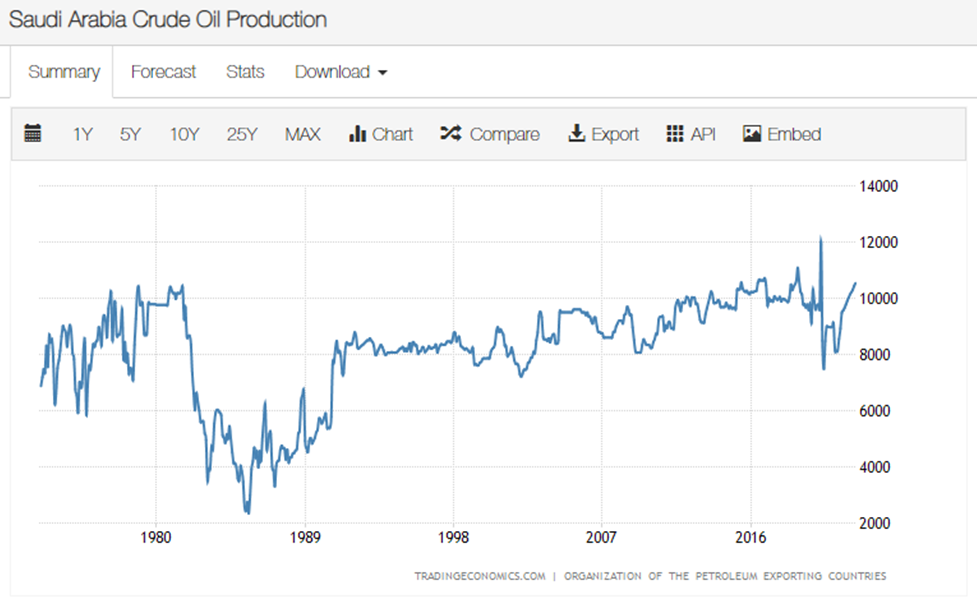 Spare capacity
To prove another point of Saudi Arabia's inconsistencies, Watkins pointed to how the country defines "spare capacity" differently. He said that the official Energy Information Administration definition indicates the term as "production that can be brought online within 30 days and sustained for at least 90 days."
"However, Saudi Arabia includes within its own use of the term 'spare capacity' every drop of crude oil that it can get hold of: including oil supplies in storage, supplies that can be withheld from contracts and re-directed into those stored supplies, and any oil that it can buy through brokers in the spot market and then sell on as its own," he argued.
Citing his own book, Watkins compared the country's pronouncement "that it has a spare capacity of between 2-2.5 million barrels per day (mbpd), with the capability to ramp up its production to about 12.5 mbpd." However, he cited Gulf officials at OPEC saying that "Saudi Arabia could ramp up output by another 1-1.3 mbpd in a best-case scenario."
"Officials also mentioned that production of 11.5 mbpd is untested and could only be maintained for a very short period and that, in any event, higher production would be very difficult and would require producing heavy crudes. Nothing meaningful has changed since then," he added.
Just last week, OPEC+ nations agreed to boost production by 648,000 bpd in August, after fears of withholding a ramp-up in production to tackle the global oil crisis.
Then, the kingdom's state oil firm Saudi Aramco increased its crude grade export for Asian customers–its biggest market–to US$9.30 in August, above the regional benchmark.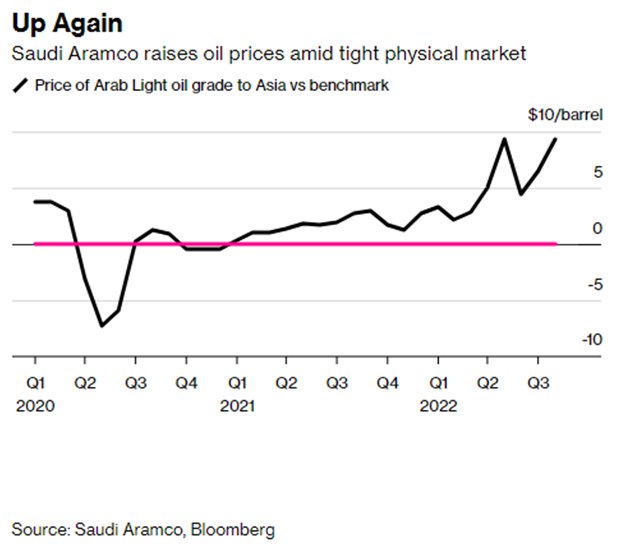 The increase in the prices of Saudi Arabia's oil exports also applies to its other markets, but the prices remain for its US market.
The OPEC website lists Saudi Arabia as producing 9.2 mbpd and exporting 6.7 mbpd as of 2020.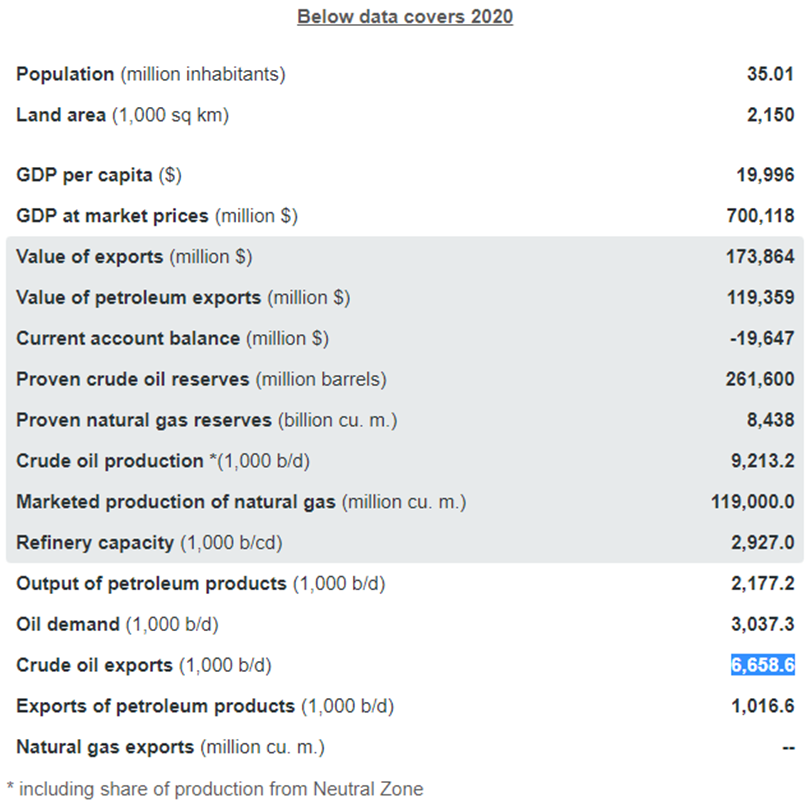 The Oil Game
With the continuing Russia-Ukraine war and the mounting global sanctions on Russia, the world reluctantly turns to other oil-producing nations, including Saudi Arabia.
Early on in the course of the war, the United States banned Russian oil imports as a gesture of support in cutting off Russian President Vladimir Putin from his war chest. Russia banned exports in retaliation.
US President Joe Biden has practically called on everyone to increase oil output to commensurate the vacancy left by the Russian imports. He has continuously asked the local oil companies to drum up production and cap off local fuel prices at the pump. The White House was also previously unsuccessful in trying to arrange calls between Biden and the leaders of Saudi Arabia and the United Arab Emirates.
Fast forward to this week, Biden is set to make his visit to Saudi Arabia after the Group of 7 nations and NATO summits–still with an unclear itinerary amid the tinderbox of a diplomatic relationship with the kingdom.
"It's in Saudi Arabia, but it's not about Saudi Arabia," Biden said at the NATO summit. "And so there's no commitment that is being made or — I'm not even sure; I guess I will see the king and the crown prince, but that's — that's not the meeting I'm going to. They'll be part of a much larger meeting."
Analysts from JP Morgan Chase warned that global oil prices could reach US$380 per barrel should Russia decide to totally cut off its oil exports to the West.
Watkins is the author of The Great Oil Price Fixes And How To Trade Them, which also looked into the oil market's relationship with equities and commodities trading.
---
Information for this briefing was found via OilPrice.com, Bloomberg, and Reuters. The author has no securities or affiliations related to this organization. Not a recommendation to buy or sell. Always do additional research and consult a professional before purchasing a security. The author holds no licenses.